Term life insurance is a reliable and affordable type of protection. If you need temporary coverage for a year, or protection for your family until major debts are paid off, term insurance may be a good fit for you.
Advantages of Term life insurance
Term insurance is basic, low-cost life insurance for temporary needs. You'll either pay level premiums for a specific time period — 1, 10, 15 or 20 years — or you'll pay premiums that are renewable and increase each year as you get older. It does not build up cash value, but provides a level, guaranteed death benefit to your beneficiaries, generally income tax-free, if you should pass away during that time period. Term insurance typically provides the most protection for your premium dollar, making it generally the most affordable type of insurance available.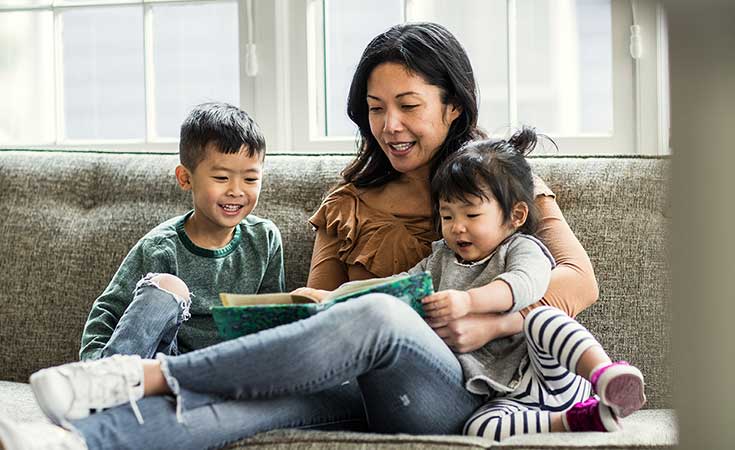 Proceeds from Term insurance can:
Pay off your mortgage
Pay off debt
Replace lost income
Pay final expenses
Help transition a business
Pay for your children's college education
Coverage that stays with you
Many group life policies, provided by employers, end once you're no longer employed. You can protect yourself and your loved ones no matter where or for whom you work — with affordable insurance from Equitable.
Learn more about our Term life policies:
Offers affordable premiums that are guaranteed to remain level for 1, 10, 15 or 20 year(s), depending on which policy you choose. After the stated term, your premiums will increase annually, as shown in the policy.
Benefits
Fixed premiums
Protection
Temporary
Convertible
Offers simple, flexible life insurance protection, featuring an all-digital, non-invasive experience. It's more than just accelerated underwriting. It's a no-exam, instant-issue, smart choice for people who need life insurance protection in just 10 minutes or less.
Benefits
All digital
No labs or exams
Protection
Convertible
All ratings and reviews are voluntarily submitted by existing customers and are pre-screened for acceptance or rejection prior to publication in accordance with established Moderation Guidelines, which consider applicable regulatory parameters for retail communications (i.e., advertising and sales literature) and company standards for appropriate content. Customers' ratings and reviews reflect individual opinions and are not intended as indications of suitability or as predictions of any product/investment performance, may not represent the experience of any other customer, and should not be relied upon as bases for any purchase decision. NOTE: On June 15, 2020, AXA Equitable Life Insurance Company became Equitable Financial Life Insurance Company. Any reviews herein containing "AXA" in any form should be considered to mean "Equitable". Equitable is the brand name of the retirement and protection subsidiaries of Equitable Holdings, Inc. Equitable Financial Life Insurance Company (Equitable Financial) and its affiliates do not guarantee the accuracy or applicability of the information included in any customer review. Ratings and Reviews are powered by Bazaarvoice, a 3rd party vendor not affiliated with Equitable Financial or its affiliates. For questions or concerns about the ratings and reviews presented here, please call 800-628-6673.

Life insurance is subject to exclusions, limitations and terms for keeping it is force. All guarantees and obligations are based solely on the claims-paying ability of the issuing life insurance company.


Term Series 160 is issued in all jurisdictions by Equitable Financial Life Insurance Company, 1345 Avenue of the Americas, NY, NY 10105. TermOne® Series 160 is issued in all jurisdictions by Equitable Financial Life Insurance Company and is issued in all jurisdictions except New York and Puerto Rico by Equitable Financial Life Insurance Company of America (Equitable America), an Arizona stock corporation with its main administrative office in Jersey City, NJ. Term Series 160 and TermOne® Series 160 are co-distributed by Equitable Network, LLC (Equitable Network Insurance Agency of California in CA; Equitable Network Insurance Agency of Utah in UT; Equitable Network of Puerto Rico, Inc. in PR) and Equitable Distributors, LLC, 1345 Avenue of the Americas, NY, NY 10105.
GE-4657023.1
(
04/2022
)
(Exp.
04/2024
)